The one problem common to computer users who work on two or more computers simultaneously, is the challenge to minimize the effort involved in moving from one computer to the other. There are multiple ways to overcome this, from using somewhat expensive hardware to using freeware applications.
KVM Switch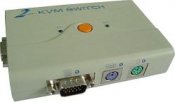 A KVM switch (KVM is short for keyboard, video, mouse) is a device that lets you control multiple computers from a single keyboard, video monitor and mouse. I wanted to work simultaneously on my laptop and desktop so went and bought myself a two-port KVM switch These devices come in two modes, automatic and manual. I recommend paying a little extra and going in for the automatic version that lets you toggle between computers with keyboard hot keys.
On the downside, a KVM switch is useful if and only if the two computers are located right next to each other, and are not networked (highly unlikely). Even if the second computer is in the next room, a KVM switch won't do you much good, unless of course you are ok with having long cables running through your house or workplace.
Virtual Network Computing (VNC)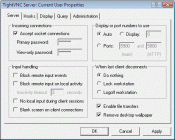 VNC is the software based alternative for a KVM switch. You can remotely control to a computer (s) and work on it as if you were there physically. VNC transmits the keyboard and mouse events from one computer to another over LAN or the Internet. There are many free utilities available that you can choose, I tried TightVNC it is very user friendly and an IQ of -1 should see you through, if not then read A guide to building a software KVM switch.
TightVNC is just one of the utilities, both paid and free, that let you remotely connect to another PC. CrossLoop, IRemote, Windows Remote Desktop, or GoToMyPC; are just a few of the other applications you can use to access computers remotely.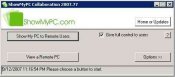 My personal favorite though is ShowMyPC because it requires no no installation or configuration; ShowMyPC combines VNC remote access technology with an open-source SSH forwarding client. The person manning the remote computer just needs to download the standalone software (less than <1 MB), and allow you access with just a password (no IP address required). This password is unique for every session and can be provided to you by the remote user over e-mail, phone or chat.
Ideal if the person at the other end isn't a geek.