Google's Picasa Web Album service lets you upload a maximum of five images simultaneously. So if you want to upload 50 pictures you will have to upload them 5 at a time This isn't a tedious task but I've personally tried it and found it to be quite boring.
Enter the Fire Uploader extension that lets you drag and drop multiple images into your Picasa web account. The best part about this extension is that besides Picasa, it also allows you to upload to Flickr, Box.net, Youtube
Before you can start uploading your pictures or videos, you will have to set up the account for the service that you wish to upload your pictures to. Which means that you will need to specify your username and password for Flickr or Picasa (as the case maybe). It present you with an FTP-like interface.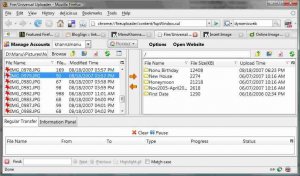 The left pane in the Fire Uploader tab displays the files and folders on the local computer, and the right pane displays the various albums you have on the service you are uploadiung your pictures to. If you do not choose an existing album to upload pictures to, Fire Uploader will prompt you to choose or create an album and then start uploading. The same process is followed for Flickr, YouTube, and Box.net.
For more information, please visit the Fire Uploader website.