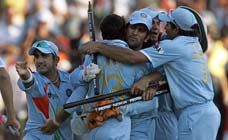 India last won the cricket World Cup in 1983. I was seven at that time, grown up enough to see Kapil Dev lift the coveted trophy, but then again far too young to to truly appreciate what it meant.
Now when India has once again won the World Cup, I have been able to enjoy and appreciate every ball, shot, and catch that the Indian players took. At least on three occasions it seemed as if Pakistan would take the Cup, but India kept coming back. What made it even more special was having Tina by my side to watch it with me.
Great going guys, India is proud of you.