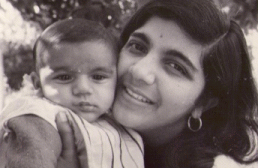 Yes, this would have been Mom's 63rd birthday if she were here with us. Mom was very fond of eating out. On birthdays, anniversaries, or at times when w e didn't have any reason to celebrate, we all would pack ourselves into Papa's Maruti 800 and head to a restaurant for a nice meal, which of course was followed by ice cream at Milkfood Sec.17, at Aroma's after Milfood closed down, or towards the end, at the roundabout of Sectors 9, 10,16, & 17 .
For as long as I can remember, this is precisely h0ow we celebrated most occasions.These small celebrations were so gratifying that we never thought of other ways to celebrate. You may find this boring, but to us this meant the world.
Now, that Papa and Anu are in Chandigarh, Tina and I in Hyderabad, and our dear sister Radha all alone in Canada, we couldn't repeat our ritual together. So while Papa and Anu headed to one of Mom's favorite eateries, the Coffee House in Chandigarh';s Sector 17, Tina and I went out for ice cream, something mom was crazy about and could have it at anytime of the day. Haven't had a chance to talk to Radha so really don't know what she did. But I guess she too would have done something that would make Mom smile.
Happy Birthday Mom, we all miss you.