As out time to leave Hyderabad approaches, we were keen to visit the ones that we haven't visited till now. Dimple suggested 70 MM and that's where we were headed, with Binoy and Nimmy who had agreed to spend thei5r Saturday evening with us. For the ill-informed, 70 MM is located on Necklace Road and is owned by the Ohri's group of Hotels, who already have about 15 eateries in the city.
What welcomed us was a spacious campus which had the breeze from Hussain Sagar lake flowing through it. The Ohri's management always likes to theme their eateries, 70MM was no different and it was based on the Bollywood theme. On stepping inside we were welcomed by a mannequin of Helen in her all revealing outfit, right opposite to an Amitabh Bachchan mannequin replicating that famous scene from "Amar, Akbar, Anthony" when he appears out of an egg shell. The walls were lined with posters from Bollywood movies of yesteryear's.

But the crowd that had gathered there was not a welcoming sight. My hunger pangs had started and there there were at least 12-15 groups who were waiting in-line before us. So there I stood cribbing and cursing everything under the Sun, even argued with the hostess on why she gave a table to someone who came in after us. Finally, the hostess relented and signaled us to our table. By now everyone else also was very hungry and we headed straight for the buffet tables. The menu was rather elaborate, at least 5-6 types of salads, starters, more than enough options of both vegetarian and non-vegetarian dishes. Sadly I had to limit myself to the veggies because of my dental treatment (more on this later), but the vegetarian tasted really good. As I had limited options, I finished first and headed to the desert counter, sample almost all the ice-creams, with a garnishing of various topping and completed the desert with chocolate sauce.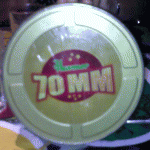 As we sat on the table fishing our meals, the waiter came by and left a round box, something like those Cadbury's tiffins container, or the boxes that store the projector reels. Dimple thought that maybe there was saunf or churan in it, while Niimmy seemed convinced that the box contained chocolates, which is what I thought it to be, a return gift from 70MM!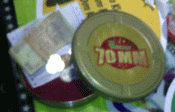 Well the curiosity got the better of us, and Dimple finally opened it, of course after we finished our deserts, so that the deserts weren't left uneaten. As Dimple opened the box, we realized that not only were we all wrong, we weren't even close. What the box actually contained was the bill for the evening. We burst out laughing and really found this idea to be rather unique.
Price: Rs.249 excluding taxes per plate
Pros: Lot of options, reasonable price, excel;lent ambiance
Cons: The selection of ice creams could have been better