Last night, Tina and I celebrated her birthday as the clock struck 12 with chocolate fantasy pastries from Cafe Coffee Day. The cakes that we get here in Hyderabad can be quite juicy at times, so we have to manage with pastries.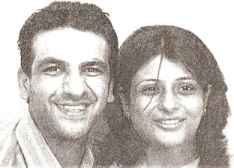 On Tina's previous birthday, I had gone to Delhi to meet her. We werenít married at that time so this trip was a complete hush-hush from both our families. We spent the day doing errands and meeting Rebecca, who incidentally was our partner in crime. She was the only one who knew that I was in Delhi to spend the day with Tina. Sweet as she is, Rebecca even allowed Tina to accompany me to the airport and stay with me till my flight the next morning. Once at the airport, we tried looking for a place where we could talk but when we couldnít find one, we paid the parking attendant the parking money and sat in the car for over 7-8 hours and talked, talked, and then talked a bit more!
That was the best night of my life. There was no fooling around, we just talked. Hey don't ask what because I don't remember any of it. The only thing that I do remember is Tina giggling and chatting like the complete chatter box she is.
As I was about to check in, my dad called and told me that he and Tinaís dad had agreed to hold our engagement the coming Sunday, April 16th. As Tina had already left, I called her up to share the news. That poor thing was so tired because of lack of sleep that she could hardly say anything. Rather reluctantly, I said bye to Tina and boarded my flight with the promise of to stop-over at Delhi on the 14th on my way to Chandigarh for our engagement.
On that day, neither of us had imagined that we would be together on her next birthday that is today. April 14th was an amazing day as well. But I'll leave the details for some other time, for now letís just wish Tina a very Happy Birthday.