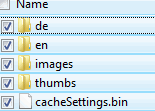 There's a feature in Windows Vista which I just can't get enough of. I had aways hoped that some day Microsoft will include it in it's operating systems. Well guess what, they just did!
Unlike, previous Windows operating systems, you can select files and folders using just your mouse. For reasons unknown to me or to anyone else for that matter, this feature will not be available in a fresh install of Windows Vista. To enable this option, in Windows Explorer, choose Tools-> Folder Options –> View (tab) and check Use check boxes to select items.
Now open any folder and move the cursor to in front of the file or folder and enable the check box. Similarly, repeat this procedure for all the other files or folders you wish to select.