If you are a technical writer and have had to review websites/blogs then surely you would have missed a tool that would let you capture the entire web page as an image. Professional screen capture tools such as Techsmith's SnagIT might be good fr capturing user interfaces, but it's a real pain while converting web pages into images.
In this post, I am going to talk about Rowan Lewis's Save As Image Firefox extension.
Use the Save As Image extension to save a page, frame, or parts of both. In Firefox, open the website you wish to capture and choose "Save Page as Image" from the context menu (also available via the File and Tools menus).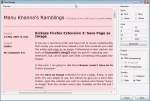 A save as dialog box displays, which you can use to mark the area you wish to capture, choose the desired format of the captured image (PNG, JPG, and GIF), and choose the quality of the image.