Every rose has a thorn! While this holds true, the inverse cannot be disputed either. My last week's accident came as a brutal and unwanted surprise not only to me, but to my family as well. Travel plans were made in a hurry, and schedules are in place to ascertain who visits us when during my bed sojourn.
Anyway, let's get back to the thorn, my accident. Though the injuries aren't very severe, they can't be ignored either. Most of my day is spent in bed, and trips to the bathroom can be quite painful. A proper bath is what I yearn for but scrub baths are all I have to make do with.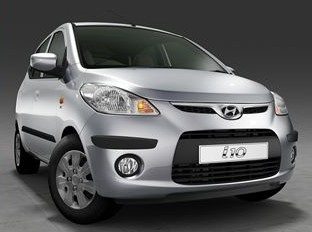 Before the accident, Tina and I had initiated plans to buy our first car, the Hyundai i10, and the loan approval couldn't have come at a worser time. On May 26th, I received a call that the loan was approved, and that I would have to travel to the bank to complete the formalities. Not a good situation at all considering the state I'm in. Thus began the two-day long process to get the bank to send the papers over to my house so that I may sign them. But no, they didn't agree as their policies didn't allow so. Finally it was a lie from the car dealers that made me sideline all personal pain and step out of the house. The staffer told that the loan validity was only 3 days, and that I'd have to reapply if I did not avail my existing approval within this period.
May 28th 3 PM, was when Tina, I and my wonderful in-laws set out in a taxi to the SBI zonal office in Secunderabad. While I and mom-in-law sat in the taxi, Tina and dad-in-law met the officials to find out if they could come down from their heavenly abodes (the bank was on the second floor) and take my signatures. Fortunately for us, they readily agreed. Two hours and fifty signatures later, with a draft for Rs. 3,60,000 in hand we headed to the dealer. In another hour or so, I finally got to sit it in my first car and after a short visit to the temple I returned home at around 9PM.
Yes, this six-hour stay away from he comfort of my bed was very painful for me, but in the end it was worth it. Given a chance I'd do it again without a wink of the eye.
Now as the car's parked right below our balcony, I just can't wait to hop in. For now though, I'll have to make do with the passenger seat as I can't drive for nuts) and allow Tina to take me on for the most pleasurable ride of my life.
Stay tuned to learn how I fair behind the wheel!